In Conversation with Georg Wilson
26 April 2022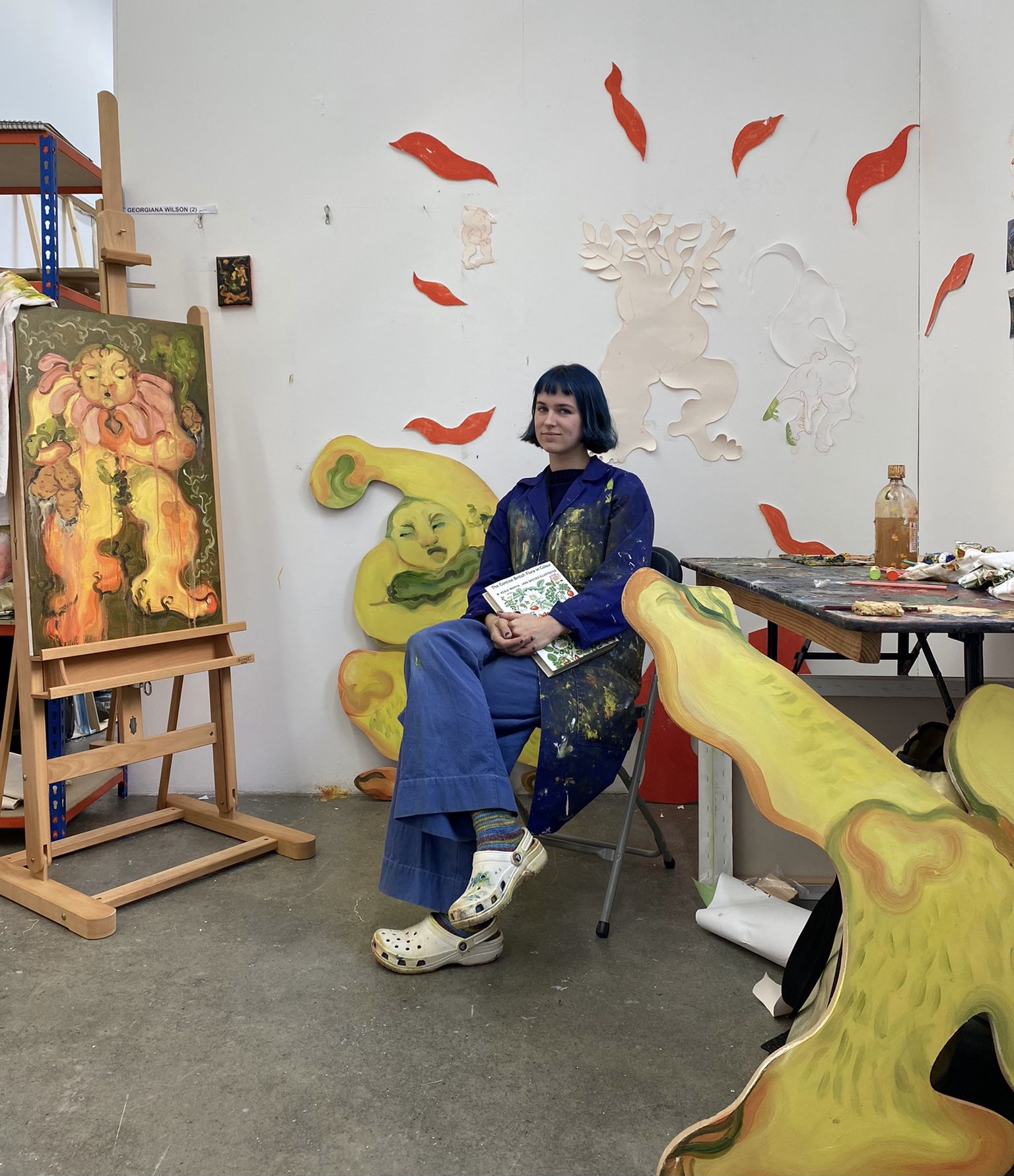 You graduated with a BA in Art History from the University of Oxford in 2020. How does your art history knowledge and experience inform your own artistic practise? Are there any specific periods in art history that you draw on or are inspired by?
My practice has always been heavily informed by my history of art degree - when I begin a series of work, I start by researching, reading essays and fiction. At the moment I am particularly influenced by medieval herbal manuscripts and folklore about botany. There are some particular manuscripts I have seen in the Bodleian Libraries at Oxford from as early as the 14th century which draw a scientific knowledge of English flora and fauna together with a magical repertoire of folklore and local custom.
How did you find that your work changed or developed when you made the shift from being an art history student to studying painting at the RCA? Did you find the shift to full-time studio work a difficult one?
I had always wanted to dedicate more time to my art practice but the demands of my university degree prevented it, so it was a complete joy to be able to finally spend every day in the studio when I started at the RCA. I think now that I have committed nearly two years exclusively to my art practice, the work has become looser, more imaginative and open, relying less on existing knowledge and moving deeper towards my own storytelling and world-building.
Myth, legend and folklore are major sources of inspiration throughout your work, is this something you've always been interested in exploring, or something you've started engaging with more recently? What is it that has drawn you to myth and folklore?
I have been drawn to folklore and myths my whole life, since my parents read me Hans Christian Anderson and the Brothers Grimm as a child. I spent a lot of time in Cornwall growing up, where folklore is intrinsically buried within the landscape - every coastline, valley and well has its own story of creatures and magic. When I grew too old to believe in these childhood stories, my practice picked them up. I believe that these narratives can help us to re-engage with the natural landscape and to appreciate its autonomy and magic outside of the human world. Such narratives can also aid us to perceive nature's importance beyond a utilitarian or capitalist perspective.

Shades of green, yellow and orange recur throughout many of your paintings, what is the significance of the colour palette you use?
My paintings are about the entangled oozing thorny rooted budding liveliness of the changing seasons and the endless surprises this cycle provides.
Chard Baby's sludgy browns and vivid greens conjure the saturation of mid summer, when chard is in abundance in the garden.
We really enjoy how you weave elements of humour and playfulness into your paintings, can you tell us about the role this plays in your broader practise?
Humour will always remain integral to my work, because I see the relationship between humans, creatures and nature as a constantly-ridiculous and weird one! Many English folkloric customs and superstitions' origins are now lost to us, and yet we still regularly practise and enjoy the silliness of them. Humour also makes things more accessible - it's a device to draw people in, to suspend their disbelief and enter a weird world that is somehow more closely entwined with nature and the history of England.
In Conversation with Abigail Hampsey
14 April 2022
If you had to describe your art in one sentence, what would it be?
A vaudeville stage, with its own set of cast members who perform narratives that move through multiple times, locations and have their own alphabet of signs.

You depict images that often touch on the weird and the wonderful. Do you work from photos, your imagination or a number of different sources?
I tend not to use photographs as I often fall into the trap of making pure copies or renditions of them which is not something I am interested in doing. I'm more interested in the rendition of a memory of a place or using a description that outlines indexical markers of said place. I'm fascinated by the effects of a journey made underfoot and the specific relationships we have with these places, be them places often frequented or places within a fictional narrative.

You have created pieces that range significantly in terms of scale in the past. How do you decide on size when you start a new work? Do you have a preference?
Often the size of a work has a direct relationship to the context of the painting. For instance, the painting "The Oaks of Avalon is the size it is because I was researching the two oldest oak trees in the UK and the subsequent folklores and myths that surround them. I took the average size of a typical oak tree in the UK and the current size of the two ancient trees and calculated the mean average, that being 3ft by 2ft, equally for me 300cm/200cm.

How has the pandemic and the various lockdowns affected your work and practice? Did it have a significant impact, or were you able to work as usual?
I moved to London from Newcastle at the beginning of the second lockdown to begin my studies at the RCA, I had no studio and no network at all, so I was confined to my bedroom for most of the time. Although this was difficult in terms of making more traditional oil paintings, I learned a lot in that time and became more aware of the setting or the perceived stage in which artworks sit, as well as an economy of materials, making do with what I had and finding creative answers to some logistical problems while working from home.

We know that you are interested in creating work that defies the limitations of the edges of the canvas. Do you have any unrealized projects that you can tell us about?
As much as painting is my primary medium of choice, I also have a large archive of analogy photographs and film that I have been creating for years. I'm interested in the relationship between the process of darkroom printing and oil painting and am excited about the prospect of this archive making an appearance one day soon.
In Conversation with Melitta Nemeth
8 April 2022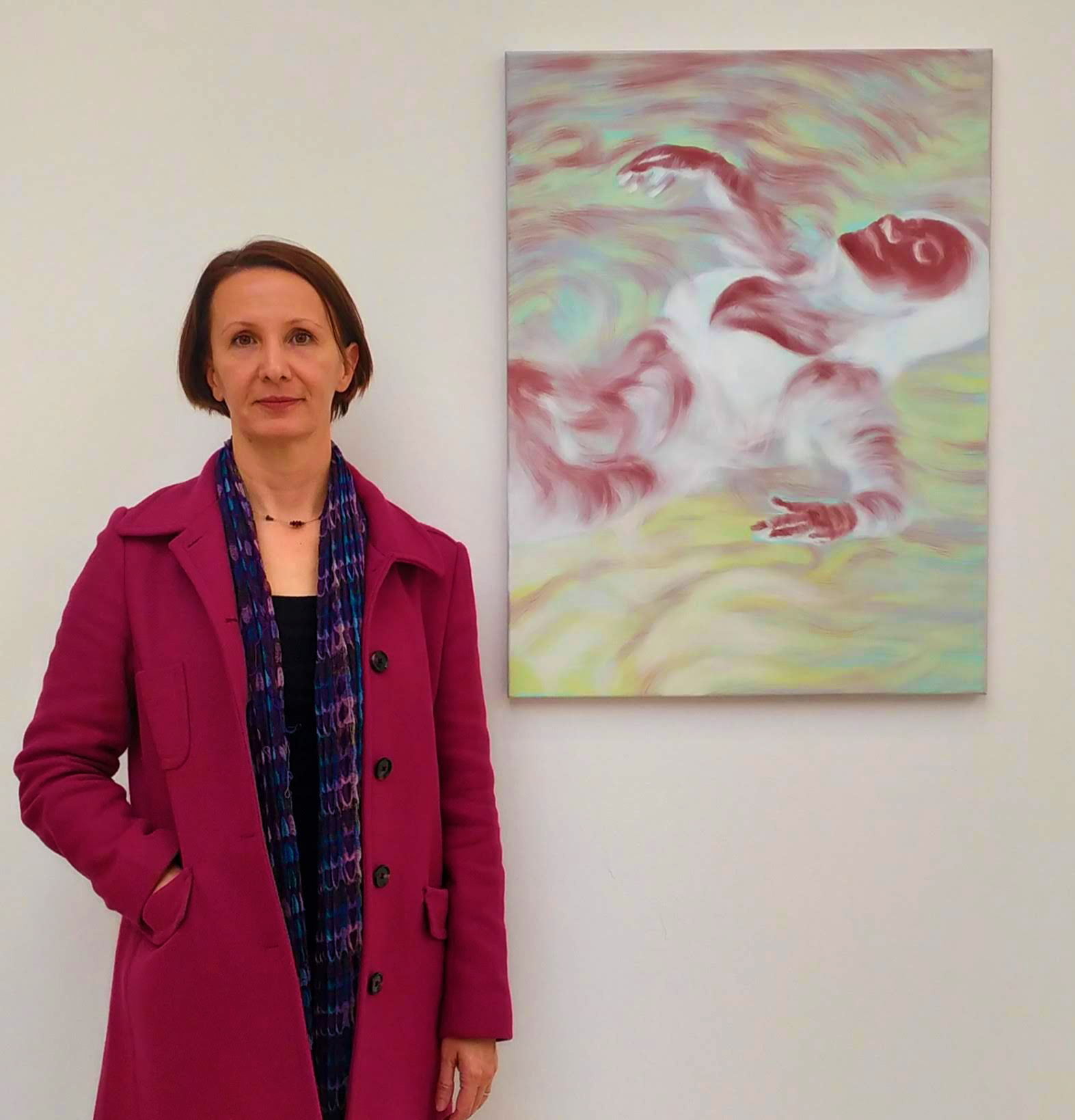 Tell us a bit about what inspires you and your art. What was it that initially inspired you to pursue a career in art?
I have always been fascinated with paint as a material. I remember painting a broken piece of terracotta brick as a child in different bright colours just to enjoy the process. I used to watch the colourful lights of the city and would try to recreate them in paint.

I'm also obsessed with the human figure. I constantly try to depict faces and whole figures using photographs as a reference or observation. The idea of reinventing the female figure and using it as a medium for expression came later.

In your recent works, you use a limited colour palette to great effect. Can you tell us about your choice and use of colour?
I use unusual colours and lighting effects to create cognitive estrangement. The audience cannot interpret the painting as a depiction of a real scene. Figures become dark, and light seems to emerge from them. The water is often glowing. I aim to create fictional spaces through paint. As Marlene Dumas said: 'I wanted to give more attention to what the painting does to the image, not only what the image does to the painting'.

You're originally from Hungary. How do you reference life and/or experiences in Eastern Europe in your work?
When I started to use images of women as source material, I first looked at an online Hungarian photo archive, Fortepan. As an ex-pat living in London, it was a great way for me to connect with my heritage. I have always been fascinated by photography because it preserves a fragment of the past.

Later, I realised I could use any photograph that moves me. Currently, I use photos regardless of the time or space they come from. My works never depict real events. I represent fictional scenes. I aim to work with ideas and emotions that are general and accessible to everybody.

What element of your work or your practice do you typically find most challenging, and how do you work to develop these elements?
I have to find the right exciting and inspiring imagery and let certain emotions come through. I cannot become obsessed with the original narrative of the image. It is difficult to give up control and let the image turn into something else. Each painting process is a new adventure. I never know what the exact outcome will be – this makes my practice risky and exciting.

I am interested in proposing narratives to the viewers, but I never tell stories. I believe art should take people somewhere else and make them connect with their own personal emotions and experiences.
At the end of last year, your work was featured in Saatchi's London Grads Now 21 exhibition, and recently you were named one of The Times' 12 future stars of the art world. Have these major recognitions impacted your work at all or changed the way you think about your practice?
The great shows I was included in, starting with the MA Fine Art Graduate Showcase at South London Gallery and then the London Grads Now 21 at Saatchi, helped me gain visibility. I will always be grateful to Camberwell curator Juan Bolivar for including me in the Saatchi show. I was very fortunate to be mentioned by Waldemar Januszczak in his article in The Times. These pivotal moments increased my following.

It was great to recognise that, although painting is an isolated activity, art as experience and communication only happens through the support of other people. The feedback from these people makes an art career an exciting journey.

Success, of course, has two faces. There is always a danger for emerging artists of being pigeonholed. I think it is every artist's responsibility and choice to widen the box they are in as much as possible. So, eventually, they start to feel quite comfortable in it.

In Conversation with Shakil Solanki
31 March 2022
Please will you tell us a little bit about what inspires you and your art? What was it that initially inspired you to pursue a career in art, and since then, where have you drawn inspiration from in terms of the individual style you've developed and your subject matter?

My work is directly informed and inspired by my South Asian cultural heritage, while also engaging contemporary notions of queer identity and intimacy. Visually, my work is directly inspired by classical Indian, and Islamic miniatures and textiles, while also drawing stimulus from contemporary queer artists, such as Salman Toor, David Hockney and Sunil Gupta.



Are there any art historical references in your art?

I've always been deeply captivated by the art practices of the East - the vividly illuminated miniatures and manuscripts of India, as well as the lush woodcuts of Japan. There's an incredible sense of delicacy which is carried out visually in these practices, which I've tried to carry forward into my own work. Their rather sublime intricacy, as well.



We know that alongside being an artist you're also an art collector. What would you say are your collecting habits/what works are you most drawn to? And specific media/thematic areas etc.

Gosh, I wouldn't necessarily call myself a collector - I think my habits are far too inconsistent and random. There isn't any specific media which I'm particularly drawn to either, but I generally tend to drift more towards works of a queer/homoerotic nature. Supporting other queer artists is something which I find quite important, especially in an artistic environment as close-knit as Cape Town's.


Of course, being an artist means having artist friends which has various benefits when you're also a collector. Outside of this, how would you say that being a creator of your own works affects the way that you collect and/or think about collecting other artist's works?
So many benefits! Having talented artist friends is a true blessing.

I suppose making your own work allows you more sensitivity when it comes to engaging with other artists' pieces- with other printmakers especially.

On a technical level, printmaking is deeply intensive, to the point of becoming arcane, when it comes to explaining it to those who aren't as familiar with the discipline. So I guess one becomes more appreciative of the certain technical intricacies which go into producing artworks. On the same level, given the time-consuming nature of my own work, I appreciate seeing a similar dedication in other artists' practices.


Now, we have some questions about your collection if you're comfortable sharing:
What was the first work that you acquired/collected?
The first artwork I collected was a small, gentle photograph by Matthew Muir.
Do you like to live with and amongst your works hanging on walls or are your works safely stored away?
The majority are safely wrapped up in my print drawer, while the others are framed, and are waiting to be hung. Ideally, I'd live surrounded by all of them.

You win the lottery tomorrow and have access to works by any artist in the world, what are you buying?
Louis Fratino, Salman Toor and Youssef Nabil are at the top of my list.

What advice would you give to a younger individual wanting to start their own collection – whether they're an artist or not?
Support younger, emerging artists. Everyone needs to start somewhere.

In Conversation with Caroline Wong
09 February 2022
Article
Tell us a bit about what inspires you and your art. What was it that initially inspired you to pursue a career in art first of all, and since then, where have you drawn inspiration from in terms of the individual style you've developed and your subject matter? Are there any art historical references in your art?
Wow there's a lot to unpack here but I'll try and keep it short. I always knew that I wanted to pursue a career in the arts but only really got the chance to focus on art after I turned 30.

In terms of where I've drawn inspiration from, I'd say regarding materiality, two key artists that have stayed with me are Liu Xiaodong and Gustav Klimt. Liu's painting is a rugged, painterly kind of naturalism recalling Manet, Lucian Freud, and Eric Fischl. I love the scale of his work and how working quickly, or 'hungrily' as I put it, is an integral part of his process. Klimt's paintings on the other hand are just unapologetically sensual and seductive in their enjoyment of colour and decorative surface. I feel there's something quite 'Asian' in his sensibilities which would make sense given the influence of Chinese and Japanese art. Anyway my work hovers between these contradictory aesthetics: unrefined, gestural realism and dreamy, lush ornamental painting.

The general theme of my practice — defiant Asian women — was and still is informed largely by the absence of East and Southeast Asian representation in the arts. I simply wanted to craft something based on my personal experiences living in Asia and Europe as a westernised Asian woman. Initially I was creating portraits of interesting characters, real and imaginary, but I later shifted my focus to female friendships (inspired by a real friendship that I had while living in China). There is still defiance in these but it's through food and drink, and they are (for me) more fun and lighthearted than confrontational.

My work is rooted in several art-historical traditions, the main one being the East Asian genre of meirenhua (Chinese) or bijin-ga (Japanese) which translates as 'images of beautiful women.' In a way my work is a modern revamping of the tropes and the role of the decorative within this genre. Other notable references for me are Japanese ukiyo-e (images of the floating world) — colourful, celebratory depictions of life's earthly pleasures; also Intimist painters such as Bonnard and Vuillard who blended painterliness and pattern to create escapist domestic scenes; and finally the energetic lines and vibrant colours in the drawings of Degas, Toulouse Lautrec, Paula Rego, and Ella Kruglyanskaya.

Your own background and upbringing are integral to your practice; can you tell us a bit more about that and how you draw on it?
Yes, I was born in Malaysia to Chinese parents but grew up in London. I did however go back to Asia on a regular basis, and even lived in and travelled around China for 4 years. So my practice naturally draws upon eastern and western cultural influences and aesthetics, as well as the environments of both Asia and Europe.

I think for example that my use of bright colours and layering of patterns has a lot to do with my love of Asian decorative arts: I'm inspired by the explosive colours and ornamental excess of Peranakan textiles and ceramics, Chinese famille jaune and famille rose porcelain, Malay batik, and Indian block printing. Alongside this, I often find myself nostalgic for the equally colourful but more gritty chaos of Asian cities, especially at night: the neon lights, the shopfronts, busy restaurants, markets, clutter, and detritus. So the visual and sensorial intensity that I experienced in Asia finds its way into my work. There is also a warmth in my images which creates a homely and inviting Bonnardian atmosphere, but it is also reminiscent of the languorous heat of Southeast Asia which I very much enjoy. Finally, there's the food culture. While the pleasure of eating is universal, in Asia it's of paramount importance. I can't explain why, other than it being cultural and perhaps related to periods of famine throughout history. In any case the epicurean tastes and pleasure displayed by my characters are inspired by this enthusiasm for food. I try to channel this indulgence into my own handling of paint and pastel.

As for living in the West, the figurative tradition and the reverence for portraiture has obviously influenced my subject matter. I don't know why I gravitated towards the human figure in art but I was spoilt for choice with all the great museums here like the National Gallery in London or the Museo del Prado in Madrid to name a couple. And London too as a city has also influenced my images. Palette-wise, it's more subdued than in Asia, but I enjoy its vastness, its variety of spaces and people, the endless possibilities and distractions it offers, its respect for tradition but taste for novelty and originality, also its openness and inclusiveness. It has an energy and vibe that I've always found exciting and vital. Like all major world cities, it's a heady concentration of everyone's desires, to paraphrase Daido Moriyama, though I'd add anxieties to that mix. This buzzy restlessness of London is something I relate to as someone who's generally distracted and anxious, and it naturally influences the marks I make and my need to work big.

Describe for us how you work in your studio, do you work from photographs or with live models? You often work with large sheets of paper, do you work horizontally on the floor or vertically on the wall? Do you find this affects your work?
I find models who are first and foremost reliable, and we arrange a photo session either at my place or theirs. I take lots of pictures of them in different outfits, eating, and pretending to be drunk and happy or confused. A lot of it is improvised on the day although I do have several images of artworks and sketches at hand for inspiration. I then work from these photos, sometimes making composites involving other imagery (either from other photos of mine or from online images). I don't really do preliminary sketches and just dive right in, working things out as I create. I do use large rolls of paper for my pastel drawings (specifically photographers' backdrop paper which comes in different colours and very large sizes) and tape them to a wall. I once tried working on the floor, but it's hard to see what I'm doing.

We love the scale on which you work – large! Can you tell us about the role of scale in your work and why you opt for larger canvasses for many of your works?
Working large comes quite naturally to me. I have a way of drawing that's very loose, gestural, and clumsy and a small canvas or piece of paper only restricts that kind of mark-making. In East Asian art images of women have traditionally been dainty and delicate like the women portrayed. There's a lot of control in the execution that mirrors the decorous behaviour of the women. Since all my images depict drunk, disheveled, gluttonous women, I want these qualities to be reflected in both materiality and scale. I sometimes like to think of the large canvas or sheet of paper as a large empty stomach waiting to be filled.

Your works are depicted in bright, bold colours. Tell us about your choice and use of colour?
As mentioned previously, I associate bright, saturated colours with Asia, particularly Southeast Asia - the temples, the street markets, the buildings, the textiles, even the food. So my practice is to some degree a way of bringing the heat and colour of Asian cities into my work. But colour for me also more broadly connotes playfulness, pleasure, and excess, as opposed to the elegance, simplicity, and sometimes austerity of monochromatic images. I recently came across David Batchelor's Chromophobia, which talks about the West's historical othering of colour as childish, emotional, feminine/effeminate, foreign, and queer. My works are, in a way, about celebrating and enlarging these 'negative' or lesser qualities, trans valuing them into positive ones.

What element of your work or your practice do you typically find most challenging, and how do you work to develop these elements?
I think scaling down has been challenging as I'm so used to imagining things as 2m x 2m canvases! Having said that, I have been able to make an ongoing series of small 8" x 10" drawings called Hungry Women, many of which have sold and are very easy and quick to make.

At the risk of bringing up the C-word, how has the pandemic and the various lockdowns affected your work and practice? Did it have a significant impact or were you able to work as normal?
I was quite lucky in this respect as my studio is in the basement. So I was able to lock myself away as usual and make quite a lot during the lockdowns. The only challenge was not being able to work with models so I was looking through old photos and resorted to using found images which ultimately became the basis of my Hungry Women series.
Do you have any unrealized projects that you can tell us about (perhaps because of financial reasons, a "no" from somewhere or time constraints etc)? Are there any that you'd like to go back to and pick up where you left off?
A lot of ideas I have involve making ridiculously big things, like giant scroll paintings that would cover an entire room, but I'd only be able to do that if someone commissioned me or gave me the space to do that. I also don't know if it'd work but that's a dream project of mine.

You've just finished your MA at City and Guilds, what are some of your upcoming future plans?
This year is a busy one. I am part of Open Space Contemporary's fundraiser I have eaten it — a series of art and food-related events raising money for Refettorio Felix; in March I'll be in another food-themed group exhibition at Quench Gallery in Margate and then a two woman show at Indigo+Madder in May; in June I'll be exhibiting with New Normal Projects again and a group show organised by Premier Art Solutions and Daniel Raphael Gallery in July. I will also hopefully have a couple of shows in the Autumn.